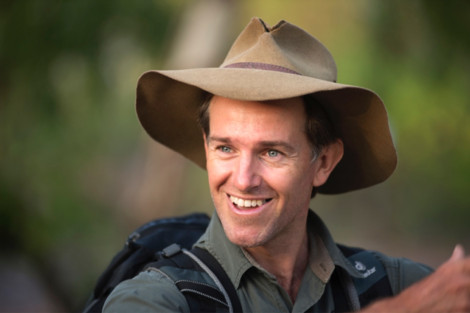 Photo Credit: Don Fuchs, Australian Geographic
Luke Paterson
Luke's professional tools of the trade includes:
Binoculars Leica Ultravid 10×50
Spotting scope Swarovski – 20-60x magnification
Camera Canon EOS 1DX II Body, Canon EF 24-70mm f2.8L USM II Zoom, Canon EF 2X III Extender, Canon EF 400mm F2.8L IS USM II Lens
---
Unrivalled in local bird guiding skill and expertise
Our specialist guide, Luke Paterson, finds guests their target species and experiences using 17 years of local guiding expertise in the region. Luke's attention to detail and amazing ability to spot wildlife has earned him a reputation for having 'hawk-eyes'. Luke is one of the most well known bird guides for northern Australia. Luke has built his reputation and industry experience over 17 dedicated years, the majority from guiding exceptional tours in remote outback Northern Territory and Western Australia (Kimberley Region) locations.
Luke's knowledge of the natural and cultural environments of these areas is immense. His attention to detail and amazing ability to spot wildlife from a far has earned him a reputation for having 'hawk eyes'. Guests and past employees commend his professionalism, reliability and great company on tour. Having met and worked with so many people, Luke is highly adaptable and pleasantly delivers his work in ways that suit everyone's needs….


Luke loves a challenge and will not give up looking for birds easily. One of his favourite birds is the Gouldian Finch. They will win any birder over, sometimes seen in flocks of over 800. We can't promise this sighting but when it does happen, it's marvelous!!
Luke's passion for birds and wildlife developed as a child, with his grandparents and during family camping trips around Victoria in Australia's southeast. After graduating with a Diploma in Natural Resource Management, Luke flew the coop northwest to Broome. Luke spent a year at the magnificent Roebuck Bay, employed as the Assistant Warden at the Birds Australia Broome Bird Observatory. He led bird watching tours and assisted in the capture, banding and research of various bird species (mist and cannon netting). This is how Luke developed his sharp identification skills for shorebirds.
Luke's next move was a one-way migration to Darwin, where he has based himself as a naturalist guide since 2002. Luke's services are engaged for avi-fauna surveys in the Top End, as well as tours guide training and mentoring, birding & wildlife expos and events, filming and photography projects and more.
Spending countless hours exploring and sharing the bush with others has only made his passion for birds and wildlife grow stronger. Luke's wildlife photography collection is extensive. Luke's images are featured throughout this site.