Tour Highlights
Black-banded Fruit-dove (endemic)
Rainbow Pitta
White-lined Honeyeater (endemic)
Partridge Pigeon
Little Kingfisher
Chestnut-quilled Rock Pigeon (endemic)
Arafura Shrike-thrush
Yellow Water birdwatching cruises
Community walks & presentations
Category

Start

Jabiru

End

Jabiru
Birdwatching focus
high
Wildlife focus
moderate
Photography focus
moderate | high
Culture focus
low
Walks rating
easy | moderate
Number of boat cruises

Public

Private

Sleeping options

n/a
Tour notes & Add-ons
2024 Kakadu Bird Week Program tours guided by NT Bird Specialists: 27 September – 2 October 2024 – STAY TUNED FOR PROGRAM DETAILS
Join renowned Australian bird guide Luke Paterson on guided birding tours of Kakadu at special event rates during Kakadu Bird Week 2024.
We'll conduct BirdData surveys of Kakadu's incredible birdlife, plus you can make the most out of learning how to identify tricky little brown birds with our expert bird guide.
Private tours available on request.
Book instantly online via the links below. 
The  full 2023 Kakadu National Park program can be viewed here:
2023 Events:
Birdwatching Tours: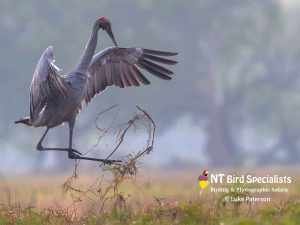 Friday 29 September 2023 – South Alligator Region Wetlands Birding Tour:
5:30-11:00am, $195 
Join Luke on a guided birding tour around the ever-changing & picturesque Mamukala Wetlands and South Alligator Floodplains (up to 3km flat loop walk). Search wetlands & paperbark forest for shorebirds & bush birds including Little Curlew, Peregrine Falcon, Red-backed Fairy-wren, Partridge Pigeon & cuckoo species. Plus make the most out of learning how to identify tricky little brown birds with our expert bird guide.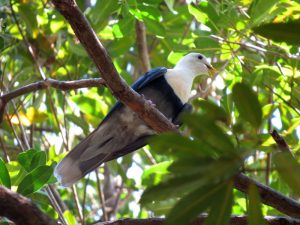 Saturday 30 September 2023 – Burrungkuy (Nourlangie) Region Sandstone Birding Tour:
5:00-11:30am, $195 
Rise early for a flat 6 km return walk to a monsoonal vine forest, home to an array of endemic monsoon-dwellers: Black-banded Fruit-Dove, White-lined Honeyeater, Rainbow Pitta, Arafura and Sandstone Shrike-thrush & other specialities like Chestnut-quilled Rock-Pigeon & Helmeted Friarbird (sandstone race). A moderate level of fitness is required for the hot conditions & you need to carry at least 2 litres of your own water & morning tea (provided). Other wildlife may include: Leichhardt's Grasshopper & Black Wallaroo (Barrk).
https://ntbirdspecialist.rezdy.com/catalog/522035/tours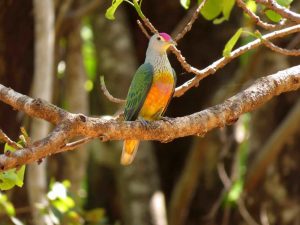 Sunday 1 October 2023 – East Alligator Region Monsoon Forest Birding Tour:
5:30-11:00am, $195 
Venture to north-east Kakadu to explore sandstone country & riverine monsoon forests searching for: Rainbow Pitta, Rose-crowned Fruit-Dove, Chestnut-quilled Rock-pigeon, Pacific Baza, Arafura Fantail & Sandstone Shrike-thrush. Other wildlife includes Saltwater Crocodiles & Black Flying Foxes. Up to 3km walk, mostly flat with a small rocky section.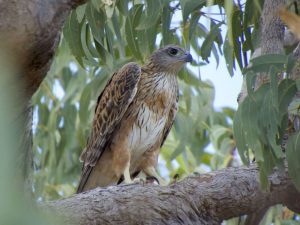 Private Birding Tours – 4-6 October 2022 – Enquire for rates and availability
Book private Kakadu birdwatching & bird photography tours with Luke Paterson to find your key species of interest from 27-28 Sept 2021. Search for key birds, (Kakadu endemics, Red Goshawk, Rainbow Pitta, finches and more). Please book early. Email Luke for bookings.
Cruises:
Yellow Water Birdwatching Cruise: 
Join Cooinda Lodge's boat guide and Luke Paterson on a 2-hour birdwatching cruise on Yellow Water Billabong. Explore the wetlands at sunset to find Black-necked Stork, White-bellied Sea-eagle, a plethora of ducks and Magpie Geese, and of course intriguing Comb-crested Jacanas. Shorebirds, finches and kingfishers are also highlights here. 
Saturday 30 September 2023 – sunset birding cruise
Sunday 1 October 2023 – sunset birding cruise
Monday 2 October 2023 – sunrise birding cruise
Tuesday 3 October 2023 – sunset birding cruise
Please book with Yellow Water Cruises and to seek further information.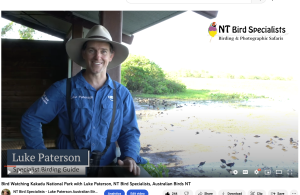 Birdwatching Presentation: Friday 29 September 2023
7.30–8.30 pm
Discover Kakadu's most exciting birds in World Heritage habitats. Luke Paterson from NT Bird Specialists will give an insightful presentation into birding in Kakadu National Park. Meet other bird enthusiasts and see what's instore for Kakadu Bird Week 2023.
Jim Jim Room (upstairs), Mercure Crocodile Hotel, Jabiru, NT
Free Birdwatching Walk: Burrungkuy Art site, Monday 2 October 2023
5–6.30 pm
Burrungkuy is home to an array of native birdlife. Join Luke Paterson from NT Bird Specialists for a relaxed walk around the Burrungkuy Art Site and spot birds located in this area. Meet Luke at the start of the Burrungkuy walking track at 4:45 pm for a 5 pm departure.
Virtual Birding Video:
Can't make it in person this year? Watch our Birdwatching in Kakadu with Luke Paterson film here. Leave a comment and let us know what you think.
Share your Experiences:
We'd love to see your photos taken in Kakadu Bird Week 2021. A great way to share your story with others is to Follow/ Like Us and add your review and photos to our social pages (simply click the link and post away).
Tour Summary
28 September – 3 October 2023
Tours include:
*Special Kakadu Bird Week tour rates*

*COVID-19-Safety Plan & Kit

*Pick ups/drop off from Jabiru accommodation on all tours.

*Professional bird guiding with Luke Paterson, transport in commercial tour vehicle, morning tea, drinking water, Kakadu bird list, communal spotting scope

*Tours exclude: Other meals, accommodation, Cooinda transfers, BYO breakfast and Kakadu Park Pass

*Please bring: Binoculars, camera, wide hat, walking shoes/boots, backpack, repellent, sunscreen, 1L drink bottle, long sleeved clothing, personal medications and your Kakadu Park Pass

*Minimum numbers for departure apply.

*Evening presentations and guided walks – dates to be announced soon
Do your bit and submit valuable data to BirdData and E-Bird during the week and Make Your Birding Count.
Regions Visited
East Alligator (Erre)
Burrungkuy (Nourlangie)
South Alligator
Yellow Water