Explore the best birdwatching sites in Darwin and northern Australia with one of Australia's best bird guide, Luke Paterson. Search for over 400 bird species in Kakadu and the Top End (Northern Territory) and Kimberley region (Western Australia).
Book custom or private birdwatching itineraries to get your target bird species and photographic requirements OR you join one of our award-winning Top End group birding tours.
Group birdwatching tours are limited to 8 guests and include shared use of spotting scope, binoculars and field guides (electronic and print). Enquire for larger groups and bird hides.
Our bird watching tours can include stunning boat cruises, bushwalks, rock art and breath-taking landscapes to please non-birding companions and create epic wildlife and photographic opportunities.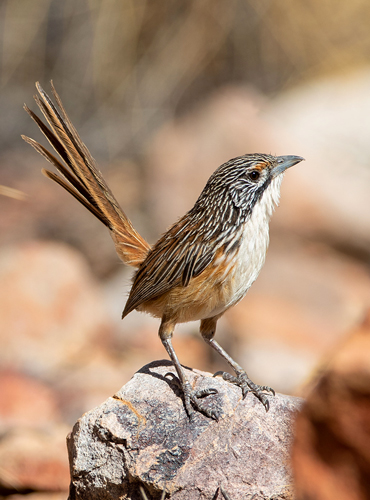 Bird Watching Tours
17 Day Northern Australia Outback Birding Tour, Darwin to Cairns via Mount Isa
17 Day Northern Australia Outback Birding Tour, Darwin to Cairns via Mount Isa
Explore the best inland birdwatching sites in outback Australia on this birdwatching adventure of a lifetime.
A must-bird destination on an NT Bird Specialists itinerary is the World Heritage Kakadu National Park. Kakadu is home to over one third of Australia's bird species and it is a hotspot for endemic plant and animal life. Endemic birds of Kakadu include Black-banded Fruit-dove, White-lined Honey Eater and White-throated Grasswren. Kakadu is also famous for 65,000 year-old living aboriginal cultures and ancient rock art!
Birdwatch around Darwin, Fogg Dam, Mary River and Pine Creek on shorter tours and venture to more isolated areas such as Katherine, Victoria River, Timber Creek, Kununurra and Lake Argyle for some Kimberley birding. Alice Springs and Mount Isa in Outback Queensland are fantastic Australian outback birdwatching locations with Luke Paterson.
We show you where to find Gouldian Finch, Purple-crowned Fairywren, northern Crested Shrike-tit, Yellow Chat, Black Grasswren and Button Quail to name a few regional specialties.