Join award-winning birdwatching & photography tours skilfully guided by Luke Paterson, one of Australia's best bird guides & owner of NT Bird Specialists. Our world-class birding & ecotourism experiences are created with 37 years local expertise, immersing you in northern Australia's ancient wilderness (Northern Territory, Kimberley, outback Queensland) & Sri Lanka.
We tailor to all birders, nature/bird photographers, film-makers & naturalists during unique small group tours & private birdwatching itineraries.
World birders, listers & non-birders alike highly recommend our professional combination of specialist guiding, 400+ bird species (finding rare & endemic Australian birds like Gouldian Finch, Grasswrens & Red Goshawk), exquisite landscapes & bird photography, private photographic cruises, helicopters, bushwalking, rock art & more.
About Us.
We have a united passion and experience in working for sustainable tourism businesses and conservation projects in northern Australia and SE Asia.
You can rest assured with our award-winning team, as we combine over 37 years experience in the Northern Territory and Kimberley regions when packaging our genuine small group and custom ecotours, so you have more time to view wildlife and soak in your surroundings in comfort.
Our services in special-interest nature tourism are amongst the best on offer. Come and experience it for yourself.
"We look forward to welcoming you as our guest to the Northern Territory and to share our passion that our fine selection of feathered friends brings"

Luke Paterson
Tour Guide and Business Owner
Photo Credit: Navin Chandra
Tour Maps

Photographic Workshop: Top End Birds & Wildlife Immersion

Tour Maps

5 Day Top End Birding and Wildlife Tour

Tour Maps

9 Day Australian Outback Birdwatching Tour, Darwin (NT) to Mount Isa (QLD)

Tour Maps

Wild Kakadu Nature Photography Expedition 2025

Tour Maps

10 Day Ultimate Top End Birding Adventure Tour

Tour Maps

15 Day Sri Lankan Birdwatching & Wildlife Tour

Tour Maps

7 Day North Australian Finch Frenzy Tour

Tour Maps

8 Day Tropical Outback Bird Photography Tour

Tour Maps

4 Day Kakadu Birdwatching Tour 'Djakarna Jaunt'

Tour Maps

3 Day Kakadu Wildlife Tour 'Rakul Run'

Tour Maps

4 Day East Kimberley Bird Photography Tour

Tour Maps

2 Day Pine Creek Birdwatching Tour 'Parrot and Finch Paradise'

Tour Maps

1 Day Kakadu Birdwatching Tours

Tour Maps

1 Day Darwin Birdwatching Tour 'Sticky Beak'

Tour Maps

1 Day Wild Kakadu Wildlife & Rock Art Tour

Tour Maps

Kakadu Bird Week Tours 2024
View all tours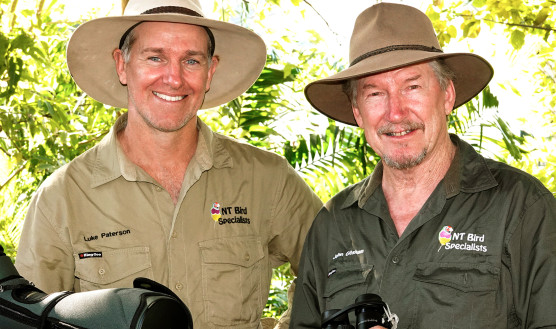 Featured Tour News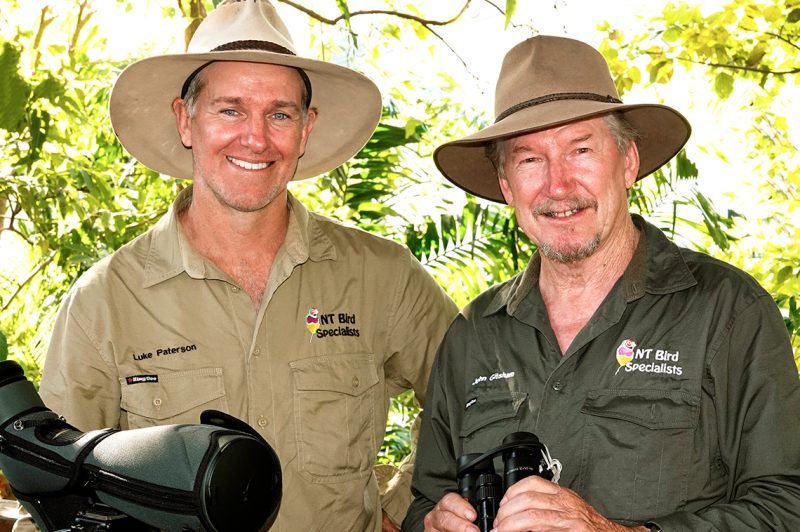 We're super pleased to have John Gitsham joining the NT Bird Specialists' Guiding Team from 2023.
With over 40 years of experience as a dedicated conservationist, naturalist, birder, and bird photographer, John Gitsham brings a wealth of knowledge to our team at NT Bird Specialists.
John is a seasoned professional whose experiences include 25 years in the Conservation Industry (Head Park Ranger for the famous Coorong National Park in South Australia, Wildlife sanctuary roles – Earth Sanctuaries, Australian Wildlife Conservancy, National Parks & Wildlife SA, Nature Guide, Wildlife Manager, Fleurieu Swamps Project Officer & Wetlands Manager for the Murraylands in SA).
John first met Sarah through their University studies in Ecotourism at Flinders University in Adelaide, South Australia & naturally, he hit it off with Luke sharing their birding passions.
John is the past President & Committee Member of Birds SA & has been on BirdLife Australia's Gluepot Bird Reserve Management Committee (in South Australia's Riverland) for the past 20 years.
During this time, John has been the Facilitator/Head guide of many birdwatching walks, birdwatching events, lectures & Birdwatching Courses & operated his own Birding/Bird Photography business.
As an accomplished Nature Photographer of Birds & Landscapes, John's Professional Photography was recently published in two of his black and white landscape photography books.
As we do, John firmly believes in "Conservation through Education" when working with guests & communities, so you can see why we're excited to welcome John to our team!
Come and meet John on our Darwin and Kakadu tours, or at his presentations at the 12th Australasian Ornithological Conference (AOC) in Brisbane November 2023 and attendance at the Australian Birdlife Photography Conference in Adelaide March 2024.