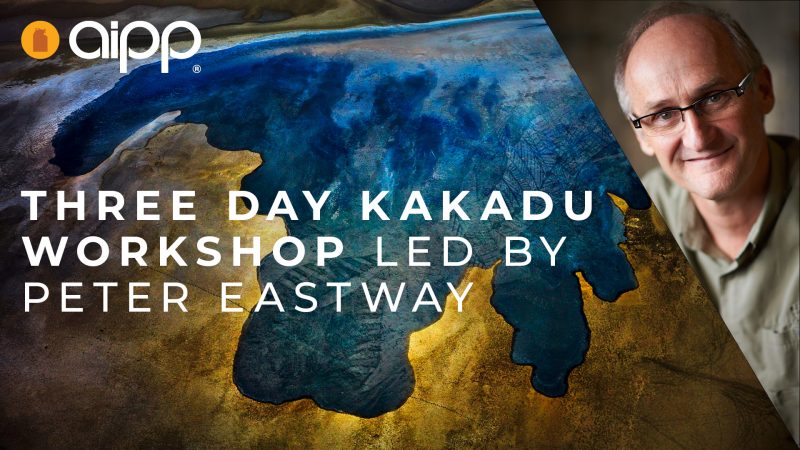 20-22 May 2021, Darwin, Kakadu, Northern Territory
Take a three day trip led by international award winning photographer Peter Eastway to the World Heritage listed Kakadu National Park, the Top End's premier national park. NT Bird Specialists have partnered with Australian Institute of Professional Photography (AIPP) and
Peter Eastway to operate this tour.
Explore and photograph a variety of landscapes from the wetlands to the stone country, see ancient Aboriginal rock art and learn its stories.  Experience the park in the season of 'Yekke', the cooler (but still slightly humid) season at the end of the rains when the landscape is lush and at its most scenic. This is a bespoke trip designed by the AIPP specifically for photographers, so expect some early mornings so we don't waste the good light.
Visit Mamukala wetlands
Take part in photographic shoots in the stone country and woodland landscapes of the East Alligator and Burrungkuy (Nourlangie) Regions
Look for crocodiles at Cahills Crossing
Experience a private guided tour of Ubirr aboriginal rock art site with Luke Paterson followed by sunset
Enjoy a private sunrise Yellow Water wetlands cruise led by specialist wildlife guide Luke Paterson
Participate in a post production workshop
Enjoy a final photo shoot around Darwin on our return journey.
Inclusions: 
3 Days, 2 Nights bespoke photographic tour with maximum of 10 passengers (minimum 8)
Photo guide – Internationally renowned landscape and wildlife photographer Peter Eastway and additional local AIPP support person
Accredited and award winning specialist guide and driver with 20 years experience in the area: Luke Paterson, NT Bird Specialists
Transport from Darwin in spacious 18-seater 4WD tourist bus
Accommodation at Anbinik Kakadu Resort in  air conditioned ensuite suites or 2 bedroom cabins (twin share)
All meals
Morning and afternoon/evening photo shoots and post production workshop
private 2.5 hour Yellow Water cruise (in 50 seater boat) guided by Luke Paterson
Guided aboriginal rock art tour with Luke Paterson
Kakadu park entry tickets and all commercial operating permits and insurances
Covid-19 safety plan and hygiene kit
Exclusions:
Flights
Accommodation in Darwin
Travel insurance
Laundry
Billable phone calls and wifi
Personal shopping
Evening and alcoholic beverages
Snacks
*Comprehensive travel insurance is highly recommended.
Location: Departs Darwin City – pick up details will be provided prior to the event
Speakers / Tour Leaders
Peter Eastway FAIPP HonFAIPP HonFNZIPP APPL GMPhotogII MNZIPP
Peter Eastway is an Australian photographer known internationally for his landscape photography and creative use of post-production. A practising professional, he shoots editorially (mainly for Better Photography Magazine) and works selectively in advertising and portraiture.
Peter has been involved in photographic magazine publishing for over 40 years, establishing his own title, Australia's Better Photography Magazine, in 1995. As a result, Peter and his websites are a wealth of information on how to capture, edit and print, offering tutorials, videos and inspiration for amateur and professional photographers.
Peter's work has been published and exhibited internationally. He was the author of the Lonely Planet's Guide to Landscape Photography. His photography has featured on the cover of the Lonely Planet's guide to Australia, in articles in the Qantas inflight magazine, and in an international Apple television commercial. He has worked closely with Canon, Adobe and Phase One.
He was one of the featured photographers in the Tales By Light television series aired on the National Geographic Channel in Australia and produced in partnership with Canon Australia. It can currently be viewed on Netflix.
Peter Eastway is a Grand Master of Photography, a Fellow and an Honorary Fellow of the Australian Institute of Professional Photography, and an Honorary Fellow of the New Zealand Institute of Professional Photography. He won the 1996 and 1998 AIPP Australian Professional Photographer of the Year Award. He is a WPPI Master of Photography.
He won the 2009 Kodak Award of Distinction at the international WPPI Print Competition held in Las Vegas, USA; the AIPP NSW Professional Photographer of the Year 2019 and the AIPP Australian Professional Nature Photographer of the Year 2019.
Peter's early landscapes were primarily black and white, carefully printed and toned, but with the advent of digital photography, he has taken a leading role internationally, creating a New Tradition (the title of his book) of high quality imagery, and speaks about 'invisible Photoshop'.
He is an ambassador for a number of international photography brands, including Canson, Eizo, Epson, Momento Pro, Phase One, SanDisk, The Edge Photo Imaging, Wacom and Zenfolio.
Peter speaks internationally on topics including landscape photography, Photoshop techniques, publishing and the business of professional photography.
Peter is in his sixties, rides a short surfboard, believes two skis are better than one, and in case you're buying him lunch, he is vegetarian.
Unrivalled in local bird guiding skill and expertise.
Our specialist bird guide luke paterson holds incredible birding skills, acute sight and hearing and excellence in customer service and satisfaction, making him one of australia's best bird guides and tour operators.
Luke Paterson finds guests their target species and experiences using 19 years of local guiding expertise in the region. Luke has built his reputation and industry experience by guiding exceptional tours in remote outback Northern Territory, Western Australia (Kimberley Region) and Sri Lanka.
Luke's knowledge of the natural and cultural environments of these areas is immense. Luke's attention to detail and amazing ability to spot wildlife has earned him a reputation for having 'hawk-eyes'. Guests and past employees commend his professionalism, reliability and great company on tour. Having met and worked with so many people, Luke is highly adaptable and exceptionally deliver his work in ways that suit everyone's needs, whether it be bird and wildlife guiding or ecotourism and research advisory service provision.
Ticket Cost:
AIPP Members &  Better Photography Subscribers $3300
Non-AIPP Members $3600
Single supplement $275 (on request we will try to pair you with another participant of the same gender for accommodation, however this cannot be guaranteed)
How to book:
Please complete our online booking form, including dietary, medical, contact and insurance details. (When booking please include the words AIPP Peter Eastway Workshop and add your membership/subscriber number if applicable in the "additional booking notes" field). Please note that where the standard NT Bird Specialist Covid-19 and refund terms and conditions are different to the conditions outlined above, the above conditions will prevail. See below for more information.


AIPP Kakadu 3  Day Workshop Special Booking Terms and Conditions
A minimum of eight people is required for this trip to run (maximum 10).  A deposit of $1000 is payable by Friday 16 April 2021.  If minimum numbers have not been reached by this time, the trip will be cancelled and all deposits refunded.  If minimum numbers have been reached the trip will be confirmed (you will be notified via email in either event).  Final payment is due by 16 April 2021.

From the time the trip is confirmed via email all payments (including the deposit payment) become non-refundable, however a change of name will be allowed at no fee.  In the event that the AIPP is unable to operate the trip (due to a Covid-19 event or other unforeseen circumstances) it will postpone the trip to a later date and all payments will carry forward to the new date.  

For more information, please visit the AIPP website here: