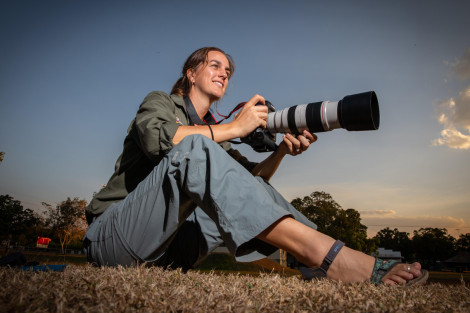 Sarah Burgess, Ecotourism Specialist
Sarah's projects have included:
9 years Managing Director for multi-award winning ecotourism operation, Northern Territory Australia
Developing sustainable Orangutan tourism communities in Indonesia – AusAid International Development Program/Orangutan Information Centre
Tour guide and interpretive ranger training in Asia and Northern Territory, Australia
Ecotourism planning and development in World Heritage sites
Visitor experience program management and marketing
Event management, marketing and committees
Award, Grant and Article submission writing
Environmental and cultural interpretation projects
Community waste management programs in Indonesia
Double Diploma in Tourism and Travel & Tourism and Events/Charles Darwin University 2019
Certificate 4  Tourism Guiding, Ecotraining Australia/Charles Darwin University 2010
Bachelor of Ecotourism (Biological Sciences) Flinders University, SA 2006
Australasian Ornithological Committee 2019 – Member of the organising committee
---
Sarah is a professional in the fields of Ecotourism Planning & Development, Interpretation, Guiding and Environmental Education. Sarah has worked in World Heritage national parks in Sarawak (Malaysian Borneo), North Sumatra (Indonesia) and the Northern Territory (Australia) for the past 16 years.
Birdwatching adds another element to Sarah's passion for wildlife, sustainable travel and exploring remote and indigenous communities. Luke and Sarah have birded around the world from – Sri Lanka, Borneo, India to Dubai, Scotland to New Zealand and across Australia, helping to shape your responsible tourism experiences.
When seeing a new bird for the first time, Sarah really enjoys stopping in the moment and looking around her to see where birdwatching has taken them this time.
Sarah joins large and international tours when possible, but most of the time is busy working behind the scenes to curate your unforgettable tour experiences.
Sarah began training as an interpretive nature guide in the World Heritage national parks of Kakadu and Cape Range (Ningaloo Reef), while completing a Bachelor of Ecotourism, Biological Sciences, at Flinders University South Australia (2006). Her eyes were opened to the exciting world of birds and ecotourism whilst learning the ropes on the famous Yellow Water wetland cruises in Kakadu and joining albatross-spotting pelagic trips off Southern Australia. These amazing birds just had to be 'ticked' and more national parks had to be explored.
A curious combination of giant Rafflesia flowers, hornbills and primates lured Sarah to immerse herself in remote SE Asian jungle life. Asian-paradise Flycatchers, Barbets, Great Hornbills competed with Tarsiers, Slow Loris, Orangutans and world class dive sites.  Wow!
Sarah spent the next 4 years exploring remote and cultural lands around SE Asia, 2 of which she worked in ecotourism and sustainable tourism development roles with indigenous guides and environmental education counterparts in the World Heritage Gunung Mulu (Malaysian Borneo) and Gunung Leuser Ecosystem (Sumatra, Indonesia) national parks.
Sarah returned to Australia in 2011 and migrated to the tropical Northern Territory to study and work in Australian national parks. Surrounded by over 300 bird species, 8 major tropical habitats, ancient living aboriginal cultures, as well as being on the door step of Asia, Sarah and Luke thought starting a birdwatching operation together in Darwin was a pretty good idea and have let it take flight.